VAL CARSON

Contemporary California Impressionist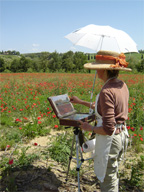 Val lives in Southern California, but enjoys traveling, capturing on canvas the world of light and color which inspires her. She is a plein air painter as well as a studio painter. Val enjoys painting commissions.
Beginning her study of art at an early age, she was painting en plein air in the Arizona Desert by age 16. Val holds a degree in fine art through the Universities of California and has studied with the Plein Air Painters of America. She has shared her knowledge and love of art with others by teaching art at all levels including Plein air Workshops for Coastline College, and an annual Artists' Retreat in Tuscany Italy 2001-2007. Venice, Italy In 2010. See- www.ilchiostro.com
Val believes all artists are works in progress.